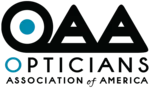 What is an optician?
---
---
An optician is a professional qualified to make and supply eyeglasses and contact lenses for the correction of vision.

An optician is not just a salesperson. An optician is a specialist who has undergone many hours of rigorous training in studying eyes, fitting eyewear, understanding all facets of prescriptions for lenses, and creating actual lenses according to specification.
---