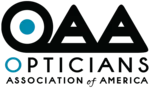 I am a retired optician, and I want to continue to support the field of opticianry. Can I still be a member of the Opticians Association of America?
---
---
Yes. As a retired optician, your knowledge, experience and expertise are invaluable assets. Because of this, we are happy to offer a special membership category for retired individuals. You will receive full membership benefits at a discount of nearly 60% off regular individual membership pricing.

Follow the prompts on our Membership Selection page and choose "Retiree" when asked.
---