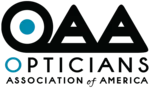 I am a student or apprentice. Can I join the Opticians Association of America now, or do I have to wait until I'm an official optician?
---
---
There is no need to wait. You can join right now.

As a student or apprentice of opticianry, you are essential to the industry. You help keep the field of opticianry flexible, forward-focused, innovative and vibrant. Because of this, we are happy to offer a special membership category students and apprentices. You will receive full membership benefits at a discount of over 60% off regular individual membership pricing.

Follow the prompts on our Membership Selection page and answer YES when asked "Are you an optician's apprentice or currently enrolled opticianry student?"
---